Maple syrup is minimally processed sweetener made in the spring of the year from the sap of maple trees.
Nutritionally, maple syrup is fat free, trans fat free, and cholesterol free.  It is primarily composed of sucrose with trace amounts of potassium, calcium and magnesium.
Regardless of the maple syrup color, or grade, the nutritional basis is consistent.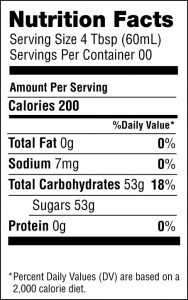 *Servings per Container is based on the size of the container.