A Family Business
In 1946, when Ralph Gamber bought three beehives at a farm sale, his intention was to rekindle his childhood fascination with bees and sell honey to his neighbors in Lancaster County, Pennsylvania. He and his wife Luella were totally unaware this modest purchase would evolve into the largest independent honey packaging business in the country.
Over the years, technological advancements have certainly enhanced Dutch Gold's growth, and more importantly, the ability to meet customers' needs. The Gamber family has always maintained that this growth be based upon the firm foundation of quality, integrity, and trust. Quality in products and service; integrity in the way we operate; and a mutual feeling of trust.
Timeline
1946- Our Story Begins
It all began with three hives of honey bees that Ralph Gamber bought at a Lancaster County auction for $27 in 1946. Ralph had suffered a heart attack in his early 30's and upon the doctor's advice, to find a hobby, he determined that keeping bees would be a great way to unwind after a stressful day at work. Ralph and his wife, Luella, who is allergic to bee stings, bottled their first honey crop in their kitchen that fall.
1954 – The First Honey House
Dutch Gold Honey quickly outgrew the Gamber's home and luckily an empty lot was directly across the street.  This was the site of the first Honey House, build in 1954 specifically to extract and package the growing Dutch Gold Honey brand.  Being conservative, the Gamber's designed the building to look like a house, just in case the honey business did not work out, they could turn the building into apartments.
1957 – An American Icon is Born
Sitting around the dinner table in 1957, Ralph and Luella Gamber were entertaining Rita and Woodrow Miller, who also packaged honey in their home state of California.  The conversation soon focused on finding a unique package for honey.  Given the popularity of Yogi Bear, Winnie the Pooh and teddy bears, the idea of the squeezable, plastic honey bear was born.
1967 – The Next Generation
As the company grew, Ralph and Luella did not need to venture too far for experienced and dedicated employees.  Their son, Bill, a tool and die maker by trade, returned to the company he grew up with in 1967.  This was just the first of the three Gamber children's return to Dutch Gold Honey.  Both daughters, Nancy and Marianne, worked in banking for several years before they joined their parents and older brother.  Bill's wife, Kitty, a registered nurse, also found a role in the ever-expanding family business.
1974 – Time to Grow
The original "honey house", across the street from the Gamber's home, had exhausted all hopes for continued expansions, and in addition, maneuvering an increasing number of tractor trailers along city streets was becoming problematic.  Dutch Gold Honey needed a new home.  A twenty-acre farm was purchased 3 miles west of downtown Lancaster, with close proximity to two major highways.  In 1974, the business moved into a new 40,000 square foot facility with its 11 full time employees.
1997 – McLure's Joins the Family
Littleton, NH is the home of McLure's Honey & Maple Products, a company founded by the McLure family in the 1960's.  When the McLure family opted to follow their dreams in another direction, the Gamber's bought the McLure brands, as the two all-natural sweeteners, honey and maple syrup seemed to fit well together.
2016 – 70th Anniversary
In celebration of Dutch Gold's 70th anniversary, the brand gets a facelift. The Dutch Gold logo was refreshed with a modern look paying homage to its Lancaster County heritage.  The labels, updated with new imagery and a contemporary white background, continue to focus on the flower blossoms from which nectar, the raw material of honey, originates.  While the brand has undergone some updates, the Dutch Gold name represents the same great quality honey as before.
Certifications
Click here to learn more about our certifications and what they mean for our products.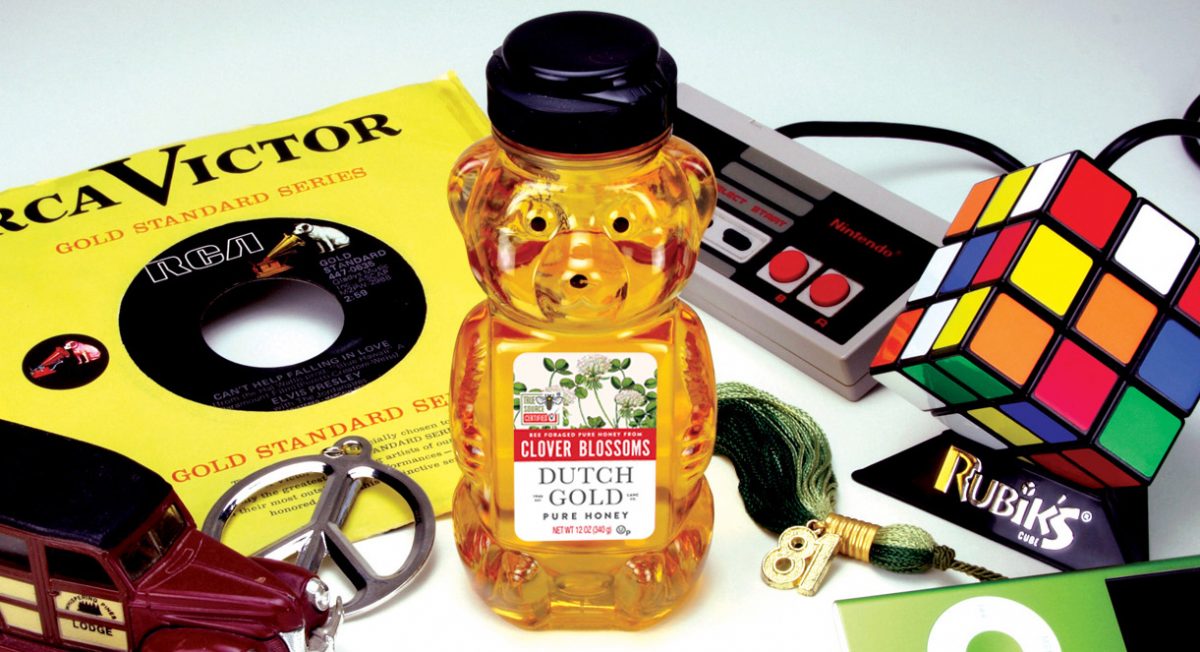 Did you know the idea for the very first squeezable honey bear was "born" in 1957 at the dinner table of Ralph and Luella Gamber, founders of Dutch Gold Honey? After sharing the evening meal with Woodrow and Rita Miller, fellow beekeepers from California, the conversation turned to brainstorming ideas for novel honey packaging.  In the era of teddy bears, Winnie the Pooh and Yogi Bear, the honey bear would soon become an industry icon.
Plastic molding technology was in its early stages and it was not uncommon for the original bears to leak from the seams at their ears, or out of their noses. The honey bears' eyes and nose were hand painted on each container and sometimes red lips were applied (much to the chagrin of Ralph).
Dutch Gold celebrated the honey bear's 50th birthday in 2007 with a party, complete with cake and ice cream. A naming contest was held simultaneously and the name chosen was Nugget!
Always grateful for their good fortune, the Gamber family established the Gamber Foundation in 1984.  The foundation supports philanthropic initiatives focused on community and sustainability.
In the Lancaster, PA and Littleton, NH Communities –
Contributions to local charities
In support of ecological research and development to protect the health and vitality of the respected honeybee and sugar maple populations –
Endowment in Entomology at Penn State University
Endowment at the Proctor Maple Research Center
True Source Honey
All Dutch Gold and McLure's honey is True Source Certified to protect our customers and consumers by ensuring to our utmost ability that honey is ethically sourced in a transparent and traceable manner from known beekeepers and brokers; that honey moves through the supply chain in full accordance with U.S. law and without circumvention of trade duties; that it carries truthful labeling as to its source, has been tested to ensure quality, and has been handled in a safe and secure manner from hive to table.